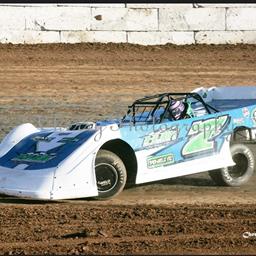 ---
9th Place Finish in Will McGary Tribute at I-30 Speedway
On Friday night Austin Theiss made the trip to Old No 1. Speedway (Harrisburg, Arkansas) for the COMP Cams Super Dirt Series (CCSDS) sanctioned opener. In a field of 27 cars, Theiss failed to make the feature via his heat race transferring him into the B-Main. Following a consolation victory, Austin wheeled his way up to a 12th place finish in the feature.
The following night at I-30 Speedway (Little Rock, Arkansas) for the 2nd annual Will McGary Tribute, Theiss scored a 3rd place finish in his heat race positioning him 9th on the starting grid for the $3,000-to-win A-Main. Holding his spot for all 40-laps, Austin Theiss registered a 9th place finish. (Woody Hampton photo)
Full results from these events are available at www.COMPDirt.com.
Back to News